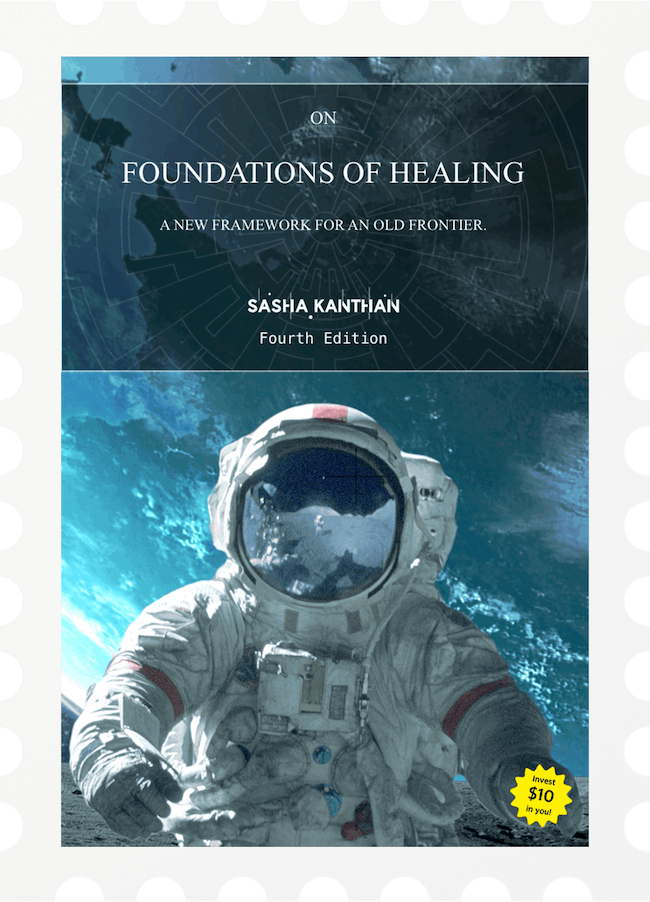 On Foundations Of Healing: A New Framework For An Old Frontier.
WHAT DOES IT MEAN TO HEAL?
The purpose of this book is to provide a simple, robust, and accessible answer to the question: What does it mean to heal?
In this book Dr Sasha Kanthan proceeds to use a set of ridiculously simple concepts from his work in the Emergency Room and beyond to present a sequence of twenty-five questions and answers in an attempt to explain that which cannot be explained. With the help of linguistic geometry he accomplishes this astonishing philosophical feat within the space of twenty minutes.
It's important you follow the sequence of interlocking ideas as they are presented. The beauty of this book is that the more you try to analyse it, the better it gets!
WHO IS SASHA KANTHAN?
Dr Sasha Kanthan is a senior Emergency Room doctor that got lost somewhere along the way. He quickly realised that no one was coming to save him and so he decided to do something special for everyone else instead.
Bear in mind he has no formal training in philosophy, linguistics, or ethics. Not to mention law, economics, or politics. Perhaps he really cares. Who knows.
This book is a work of art and does not replace the advice of your general medical practitioner.
DEDICATION
This book is dedicated to my mother. No matter where you go, in this life or the next, this book will find you and carry you to safety. And it's ok if you don't realise it was me.
AN OPEN INVITATION!
Looking for your place in the world? Join a community-oriented focus group and become part of an authentic conversation. Together we will make a meaningful difference for each other and our world.